Target Industries
Houston County, Georgia also has all the benefit of proximity to Hartsfield-Jackson Atlanta International Airport and the
Ports of Savannah and Brunswick in addition to less traffic and congestion, lower land costs, and a trained workforce.
Many industries have found a niche and achieved great success in Houston County.
Five target industries that drive the Houston County region's economy and provide a concentrated focus for strategically growing the region are: Aerospace, Advanced Manufacturing, Food Processing, Distribution and Logistics and Agribusiness.
Aerospace
Due to the large concentration of aerospace-related industries
in the area, Middle Georgia has been dubbed Georgia's "Aerospace Corridor". Middle Georgia is home to more than 100 aerospace companies and contractors. Recognizable aerospace industries in the region include: Northrop Grumman; ASA; Timco and Triumph Aerostructures. There are more than 30,000 aerospace workers in the area. Middle Georgia offers workforce advantages for aerospace companies with wage rates below national averages, a favorable labor environment, trained workers and programs for ensuring expedited start-up operations. The area has been ranked as one of 101 Great Locations in the South for Aviation & Aerospace. (Southern Business & Development)
As home to Robins Air Force Base in the northeastern section of Houston County, it seems only natural that aerospace and defense is a big focus.
Recently, more than 500 people accepted early retirement options from Robins Air Force Base. The majority of these people range from 35 to 55 years old, offering a young, available pool to select from. The skill sets include Industrial Engineers, Production Control Specialists; Quality Assurance Specialists; Aircraft Electricians; Structures and Corrosion Control Specialists and Aircraft Generalists. Detailed information on the available workforce associated with skill sets desired by the company can be provided.
Aerospace firms in Georgia can accelerate development and access new markets through the technical expertise and strategic partnerships provided by the Georgia Center of Innovation for Aerospace. The center can provide: Research Partnerships, New Product Development and Technical Expertise. For more information, visit the Center's website at Aerospace.GeorgiaInnovation.org.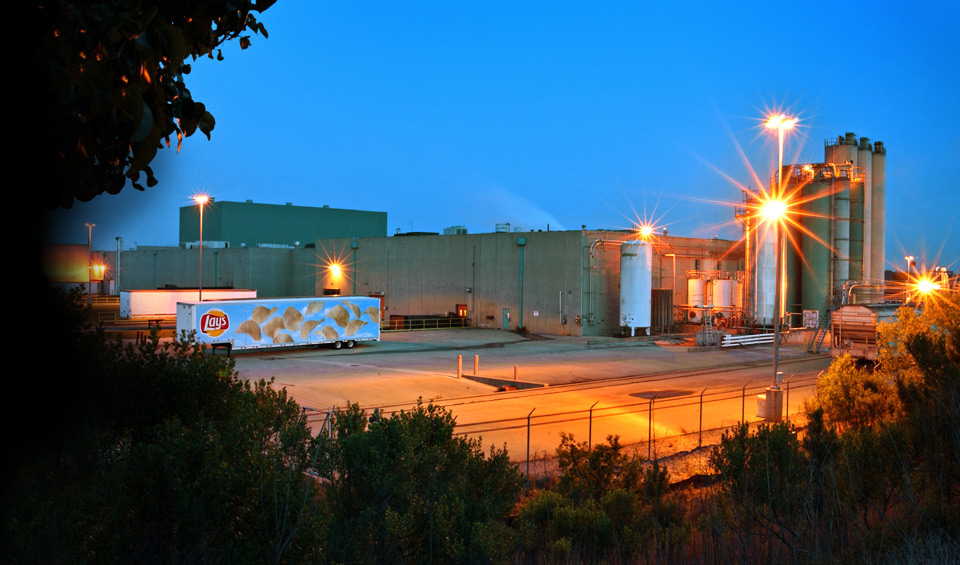 Food Processing
It comes as no surprise that
there is a focus on manufacturing in Houston County.
It serves as home to one of the largest manufacturing plants in the region, Frito-Lay. The Houston County location of Frito Lay reigns as "the Largest Salty Snack Producer in the World." An abundance of natural resources and excess capacity of water and sewer supply also provides support for a growth in the food processing sector.
"The Middle Georgia Region is poised to take advantage of macro economic and freight industry trends and achieve above-average growth in logistics activity. Positive economic growth prospects in the Southeast, and Georgia in particular, as well as expected continued growth at the Port of Savannah set the stage for increased focus on Middle Georgia as a viable manufacturing and freight distribution hub."

Distribution and Logistics
Due to an ease in the transporting of goods and services through easy access to Interstate 75, Interstate 16, rail and air, companies with a focus on Distribution and Logistics benefit greatly from Houston County's location.
Logistics firms can increase efficiency, develop new business and capitalize on opportunities with help from the Georgia Center of Innovation for Logistics.
The leading resource for fueling logistics industry growth and global competitiveness in Georgia, the center also helps companies overcome challenges related to the movement of freight. The center develops cross-sector connections, analyzes industry data and trends, and improves operations.
Identifying new markets and business opportunities:
Providing access to logistics workforce education and training
Analyzing transportation options and pricing
Data-mapping of industry, infrastructure and assets
Source: www.georgia.org
Agribusiness
Houston County, Georgia is home to more than 47,000 acres of farmland with more than 200 farms. Top crop items include peanuts, cotton and wheat, according to the 2012 Census of Agriculture by the U.S. Department of Agriculture.
The Center of Innovation for Agribusiness accelerates the growth and development of Georgia's number one industry by providing focused industry expertise, product commercialization assistance and access to ground-breaking research. Learn more by visiting the Center's website at Agribusiness.GeorgiaInnovation.org.
Georgia companies benefit from the support of the Georgia Grown program. Georgia Grown is a marketing and economic development program of the Georgia Department of Agriculture. The No. 1 goal is to aid our agricultural economies by bringing together producers, processors, suppliers, distributors, retailers, agritourism and consumers in one powerful, statewide community. They help new agribusinesses grow, and established agribusinesses thrive.
The third-lowest manufacturing unionization rate in the U.S.
Advanced Manufacturing
Manufacturing as an industry has remained strong in Houston County and continues to be a primary focus for job creation. With the large University presence accompanied by Central Georgia Technical College, the largest technical college in the state of Georgia, an existing and growing workforce of skilled labor with advanced degrees and technical qualifications ensure manufacturing companies success.
Programs offered by Central Georgia Technical College supporting Advanced Manufacturing:
AAS-Technical Studies
Air Conditioning Technology
Aircraft Structural Technology
Automotive Collision Repair
Automotive Technology
Aviation Maintenance Technology
Biotechnology
Business and Office Technology
Carpentry
Commercial Truck Driving
Computer Information Systems
Distribution-Materials Management
Drafting
Electrical Construction and Maintenance
Electronics and Telecommunications
Industrial Systems Technology
Instrumentation Technology
Machine Tool Technology
Management-Supervisory Development
Marketing Management
Plumbing
Welding and Joining Technology
Manufacturers can maintain a competitive workforce advantage with Quick Start, which provides no-cost customized training whenever and wherever – in classrooms, mobile labs, or manufacturing facilities.
Manufacturing companies in Georgia:
Leverage a competitive cost of labor and a reliable workforce with low turnover rates in a right-to-work state.
Increase transportation efficiencies with a super cargo transportation network.
Boost productivity and efficiency with customized manufacturing assistance in areas such as value stream mapping and equipment maintenance and safety.
Maximize business growth in the U.S. and abroad with the resources of Georgia's Department of Economic Development.
Drive innovations into the marketplace faster with the Center of Innovation for Manufacturing.
Maintain a competitive advantage with a skilled workforce and access to Lean Six Sigma certification for their employees.
Source: www.georgia.org
Innovation Center for Manufacturing
Website